WHAT IS TOASTMASTERS?
Toastmasters International is a non-profit organization dedicated to helping people improve their public speaking and leadership skills in a personal practice-based format. The organization has existed for around 90 years and has chapters in over 140 countries.

HOW CAN I BENEFIT FROM TOASTMASTERS?
In this day and age there is overwhelming evidence that communication skills are essential to success in the workplace. A Toastmasters club provides a positive, supportive environment in which members have an opportunity to develop more effective speaking and leadership skills which help create self-confidence. Additionally most members would concur that casual day-to-day social communication comes more easily. You will:
HOW DO YOU CHECK IT OUT?
Feel free to stop by and sit in on any one of our meetings - no reservations or prior arrangements required!
WHEN DO WE MEET?
Every Wednesday night 7:00p.m. to 9:00p.m.
, except on major holidays.
*** Please Note These Schedule Changes For Upcoming Meetings ***
The January 23rd meeting will be held at the Santa Monica Library located at 1704 Montana Ave. -- this is ONE TIME only. See map below.


Santa Monica Library, Montana Branch Map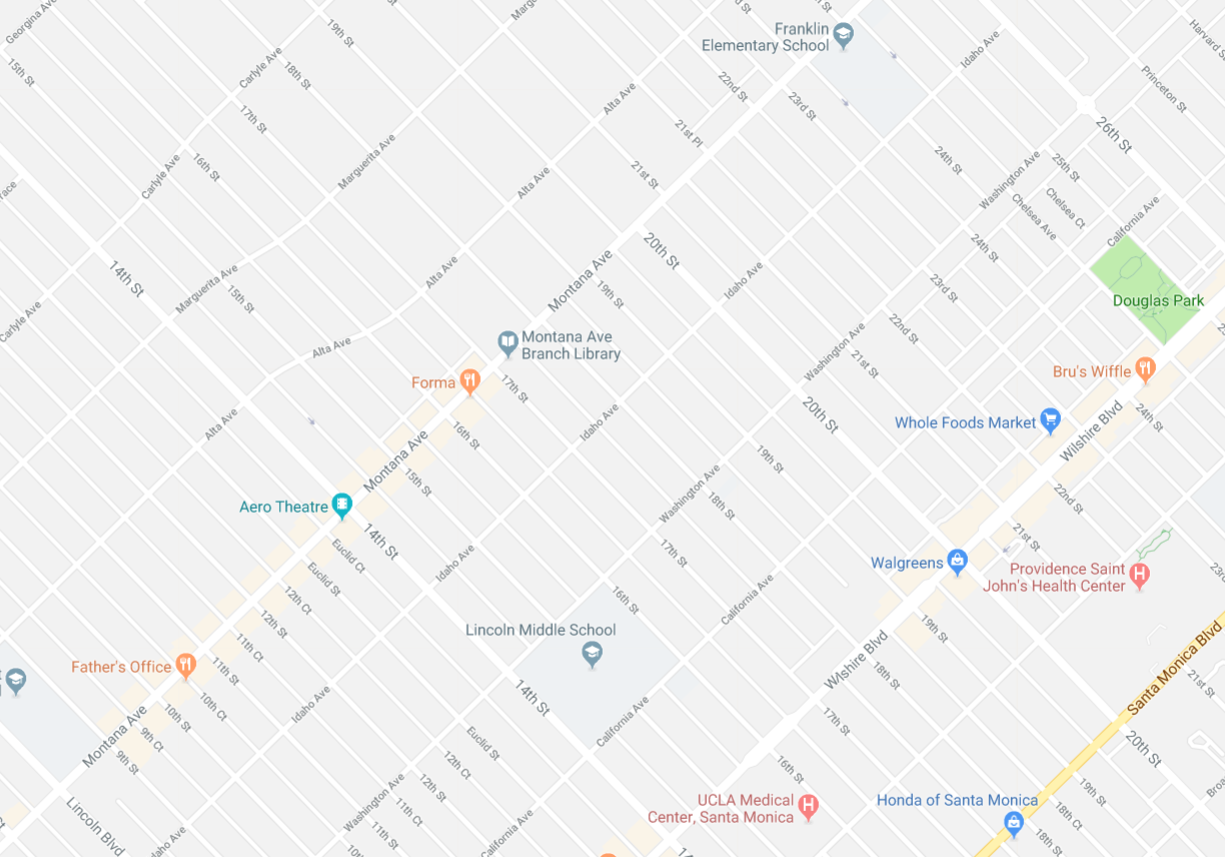 WHERE DO WE MEET?
The Ken Edwards Center
1527 4th St., Room 100A (across 4th Street from Santa Monica Place shopping center)
Santa Monica, California 90401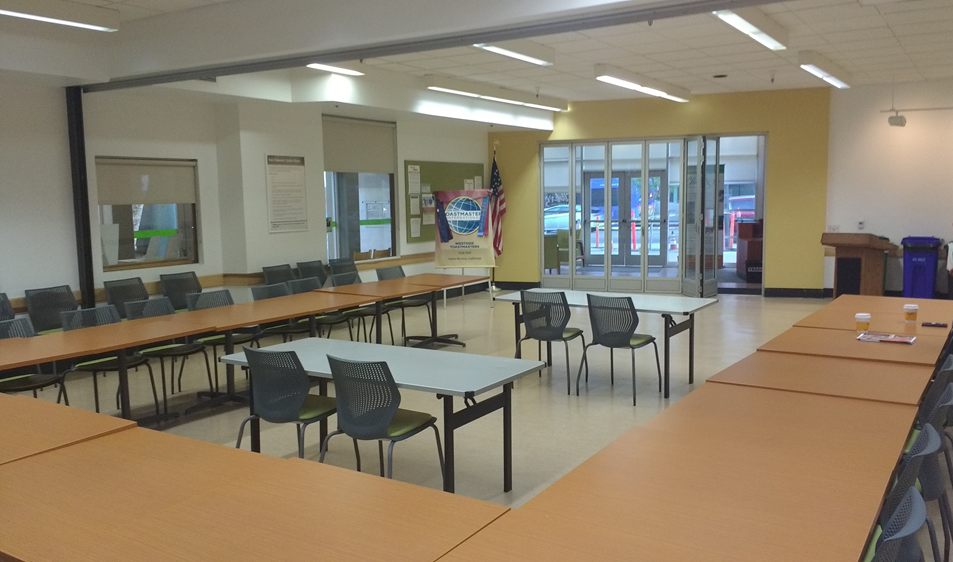 Parking is available beneath the building including company spaces (OK to park there after 6pm). Another close parking option is the Santa Monica Place shopping center across the street.
If you are coming by freeway you would head west on the Santa Monica (10) freeway until the very last exit for 4th and 5th Streets before the freeway changes direction and morphs into the Pacific Coast Highway.
After getting off the freeway at the 4th and 5th Street exit, stay over to the right of the exit ramp, turning right on 4th Street. Proceed through the light on 4th Street, crossing Colorado Avenue. The Ken Edwards Center is on the right hand side of 4th Street in the middle of the block (between Colorado Ave. and Broadway St.).
An excellent alternative is using the Expo train on the Los Angeles Metro system to come to a meeting. The final station for the Expo train in Santa Monica is one half block away on 4th Street from our Ken Edwards Center meeting location.
PARKING?
As a first option you can park beneath the Ken Edwards Center. The driveway to the parking is in the middle of the block off 4th St and comes up quickly, with no sign out front, so you will have to pay attention. The rates are the same as other Santa Monica municipal lots; the first ninety (90) minutes are free and the next half hour costs $2.00, with each subsequent 30 minutes costing $1.50. Toastmaster is a very low budget non-profit organization, consequently we don't validate parking receipts.
Another parking option is across 4th Street in the Santa Monica Place shopping center. The parking rates there are the same as noted above for the Ken Edwards Center.
HOW MUCH DOES IT COST?
To visit as a guest for any number of meetings, absolutely free. To join as an ongoing member the club dues are $17.00 per month, collected semi-annually. There is also a $20 one-time fee for getting setup within the Toastmaster system.
WHAT IF I'M NEW TO PUBLIC SPEAKING?
That's what it's all about! Though the composition of club changes, there is always a mix of new members and more experienced speakers. There are always opportunities to learn from others. We believe Toastmasters provides a 'safe' place where you can take risks as a public speaker. You decide when you are comfortable to assume greater speaking responsibilities.

WHAT IS A MEETING LIKE?
A typical meeting has three different speaking sections. There is an impromptu / extemporaneous speaking section which gives members practice in thinking quickly and coherently on their feet as we must all do at times in real life. A second part of the meeting concerns prepared speeches with topics of the speaker's choosing. The third major portion is an evaluation phase to provide constructive feedback to the speakers with prepared speeches. Where they did well and where they can improve.

HOW DO YOU PROGRESS THROUGH TOASTMASTERS?
The foundation of the Toastmasters program is a basic Communications Manual of ten prepared speeches that members work through at their own pace, acquiring the essential 'building blocks' of public speaking. Those with broader, longer range communications objectives wanting to further hone their speaking technique in more focused specialized areas can choose from any of 15 different Advanced Speech manuals. These emphasize a range of methods, examples being; how to develop a down-home storytelling style, how to inject humor into a presentation to grab the audience's attention, how to interact with different media channels, or how to handle what we'll call specialty speeches (e.g. wedding toasts, eulogies, etc.).

Another skills-building opportunity for Toastmasters is to participate in periodic speaking contests, held every six months. These advance from head-to-head competition within each Toastmasters chapter to successively higher levels outside the club. A brief overview of contests may be found here.

While refining public speaking technique is the main avenue most members travel through Toastmasters there is another key angle for self-improvement through the Toastmaster experience. In the context of the real work world, leadership and public speaking quite often go hand in hand. A second separate educational track is the development of leadership skills.

Following their chosen educational path, Toastmaster members find other benefits not specifically targeted by the program often accrue. Some find that their writing skills improve while for others the process of developing speech material serves to enhance a creative / innovative mindset.
ANY FURTHER QUESTIONS?
For Additional Questions, Send E-mail
.... Or Call Gary at