Exercise
Let's take another quick look at the enemies of innovation. They're listed on the back of this page.
Mark the two enemies that your current work environment is most guilty of. More often than not, they aren't obvious . . . they creep silently into the corporate culture like carbon monoxide: invisible, but deadly.
Now for the harder exercise: Mark the two that you, yourself, are most guilty of.
Now flip to the back of the book to find the correct answers. (How many of you fell for that, even for a brief second?)
The next step is to share this exercise with a colleague, ideally one whom you don't know very well. (Why someone you don't know very well? To help you combat Enemy Two, the fixed rather than fluid point of view, and putting yourself in someone else's mindset.)
After you're both finished, share your responses. Talk about what the experience was like for you, not about what your answers were. (We're taking a stab at the addiction to answers here. It's important to be conscious of the process at this point, not the product.)
You'll often find that you have more in common than you might suspect.
Start a meeting with this exercise. Ask each person to circle which enemy she's most guilty of and then share that with someone she doesn't know well. You'll be amazed at how the barriers melt away. (It's like throwing water on the Wicked Witch of the West.)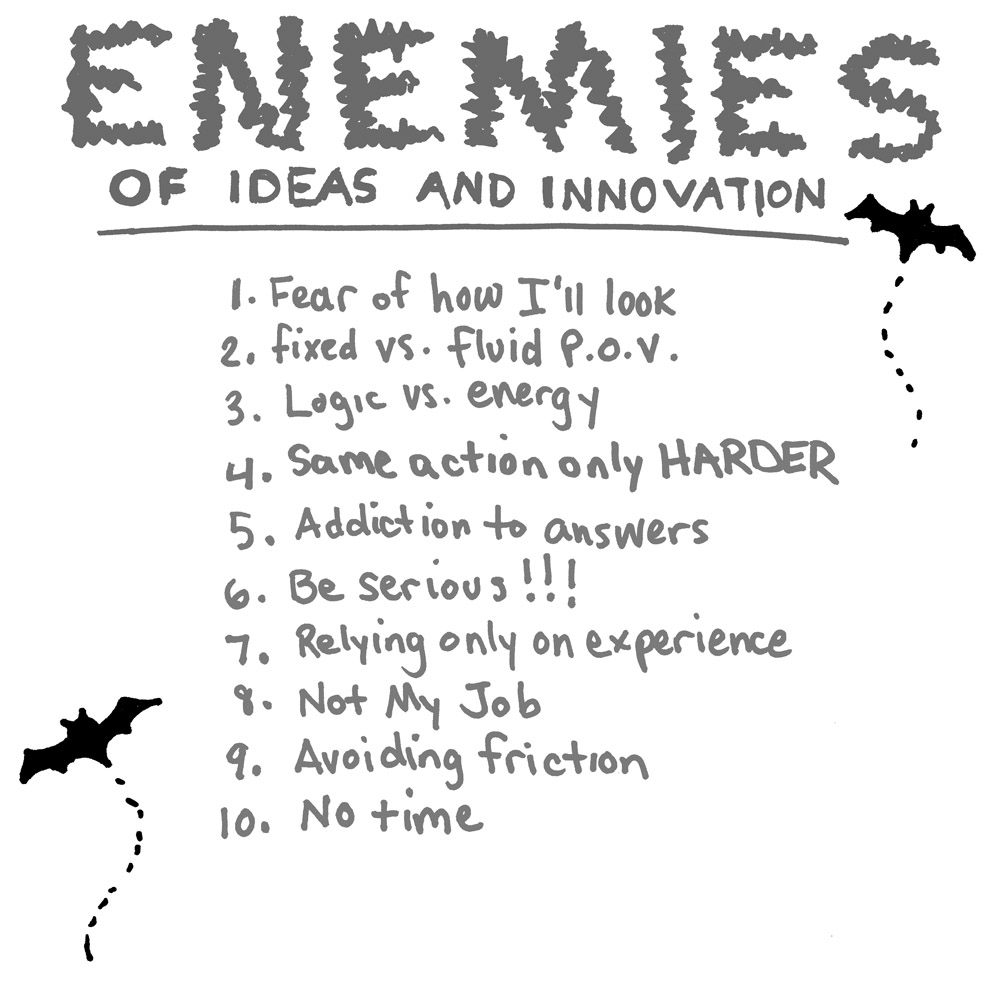 Keep this '10 worst enemies' list where you can see it, both when you're working alone and when you're in meetings. The first step in combating these pitfalls is to recognize them when they appear. Acknowledge that being 'sensible, cautious, and responsible' has helped you before, but you don't need it now.
It all comes back to fear. You're at the chalkboard. You have the chalk in your hand. It's your turn to answer.
Take the first action and start to move.